EMERGENCY PROCEDURES
ICC Sydney has an Emergency Response Plan in the event of medical, weather, fire and smoke and other exigencies. It is updated regularly, and drills are conducted annually. A trained Emergency Response Team will lead the implementation of all procedures. Event organisers are briefed on emergency procedures pre event.
To report an emergency or incident, call +61 2 9215 7660.
In the event of an emergency, one of two alarms may sound:
Alert alarm – "Beep! Beep! Beep!" This is a warning alarm to notify everyone of a possible emergency. If it sounds, please stand by for further instructions.
Evacuation alarm – "Whoop! Whoop!" This alarm means all occupants must evacuate. When it sounds, wardens will direct everyone to leave via the nearest exits quickly but calmly and assemble at the nearest evacuation point where they are to remain until ICC Sydney staff advise that it is safe to return.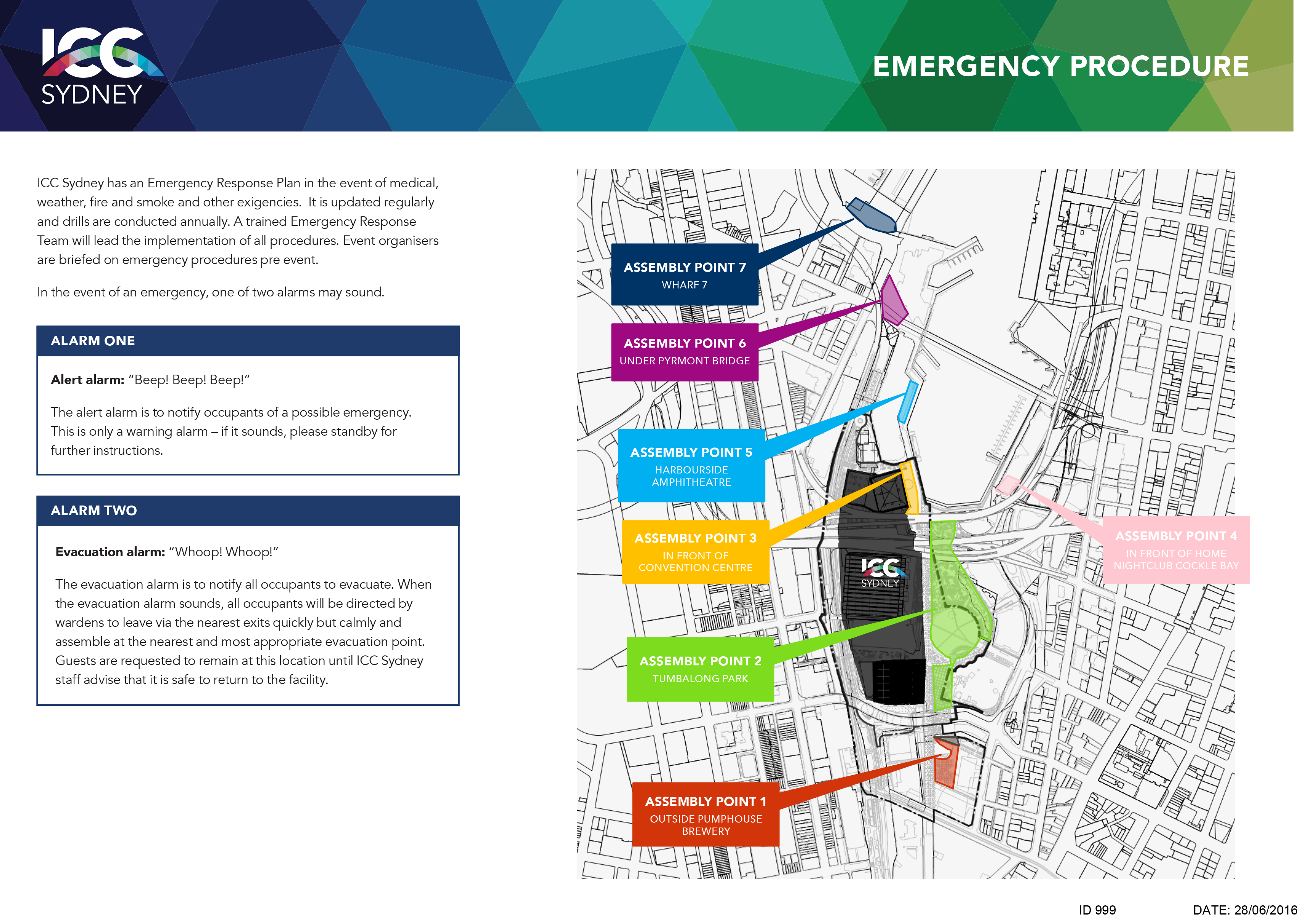 SITE RULES
EVERYONE must consider the safety of themselves and others at ALL TIMES
Eliminate or Control Risks where possible
Ensure all working on your behalf have the correct information, instruction and training
Ensure the work planned can be carried out in the time allotted
The loading bays are designated for vehicle movement and loading / unloading only. No pedestrians will be permitted in this area who are not loading / unloading vehicles
All exhibitors and contractors must be aware of forklift movement within the exhibition hall. Only the official contractor is permitted to operate forklifts within the Sydney Build Show.
All doors in the hall must be kept clear and accessible at all times
No persons under 16 years old will be permitted in the halls
No smoking including e-cigarettes are permitted within the halls
No work to be undertaken under the influence of alcohol or drugs
Be aware of moving traffic – in the loading areas
PPE – appropriate PPE must be worn - HIGH VIS & SUITABLE FOOTWEAR (HARD SOLES, NO OPEN TOES)
NO HOT WORK permitted
Appropriate and safe methods of working at height are required at all time
EMERGENCY AISLES MUST BE KEPT CLEAR AT ALL TIMES – THESE WILL BE MARKED ON ADJACENT STANDS AS "CLEAR AISLES"
Dangerous working will result in an hour suspended from the workplace, repeat offenders will be removed from site
Contractors must remove their waste from site
Exhibitors are not permitted to give alcohol away in any form from their stand